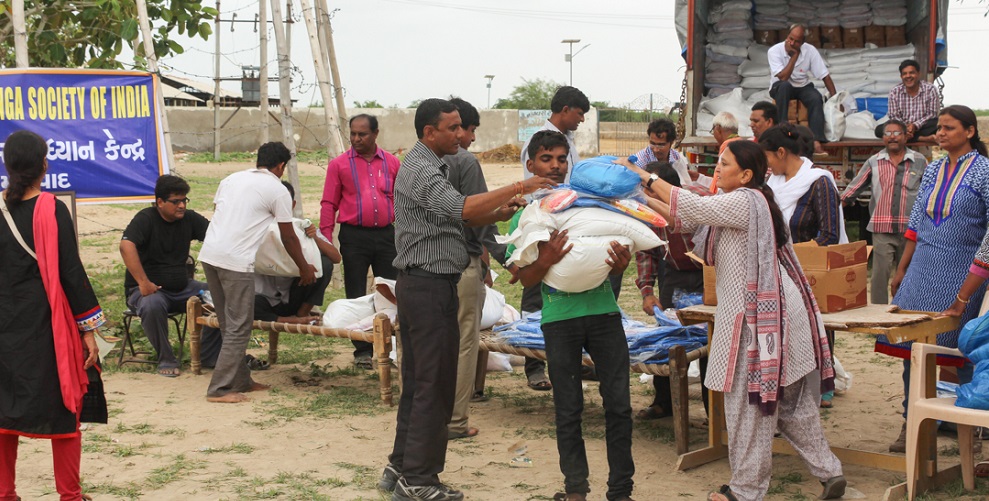 Heavy downpour during July-August 2015, triggered by deep depression over north Gujarat and an overflow in the Banas river, threw life out of gear, with Banaskantha in the north emerging as the worst-affected district. Army as well as NDRF teams and IAF helicopters were roped in for relief and rescue operations in the state as reported by the News channels.
Ahmedabad Kendra started working with an NGO, Vicharta Samuday Sangathan Manch (VSSM) who help the Nomads and the tribes in interior parts of Banasakantha region, Gujarat. We relied on the survey the NGO had already done, and obtained the list of needy families.
We then decided to extend help to 500 affected families and hence planned to prepare 500 kits of relief materials. The NGO helped us place orders with vendors and due to their help we received discounted prices for groceries. These discounts helped us to buy vessels and blankets for these flood affected people.
Each kit comprised of 15 kg wheat, 5 kg Rice, 2 ltr oil, 1 kg Mung dal, 1.5 kg channa dal, 2 kg, sugar, 1 kg gur, 1 kg salt, 2 kg sugar, 250 gm chilli powder, 100 gm haldi, 250 gm tea, 1 match box packet., 1 tarpaulin sheet 15x15ft, 1 blanket, and vessels (1 plate, 1 katori, 1 spoon, 1 cooking vessel with 1 lid).
After the bulk purchases, devotees themselves prepared the kits, arranged for a truck, and got all material loaded in it (more than 2 tons of material).
Approximately 37 volunteers, including 10 friends, went in a bus to three sites for the distribution of the relief materials. Our first halt was at Unja about one and a half hour from Ahmedabad. Flood affected people assembled at an open space outside a temple. We set up our banner and Guruji's picture and unloaded the goods. After we set up our counters for distribution we had an opening prayer and began our distribution. Approximately 210 kits were distributed here.
From there we moved to our second destination, Tharad, where we distributed about 60 kits. Our next destination was Dhanera, where again we distributed the balance kits.
We returned home with a grateful heart for having been instrumental in helping the needy.