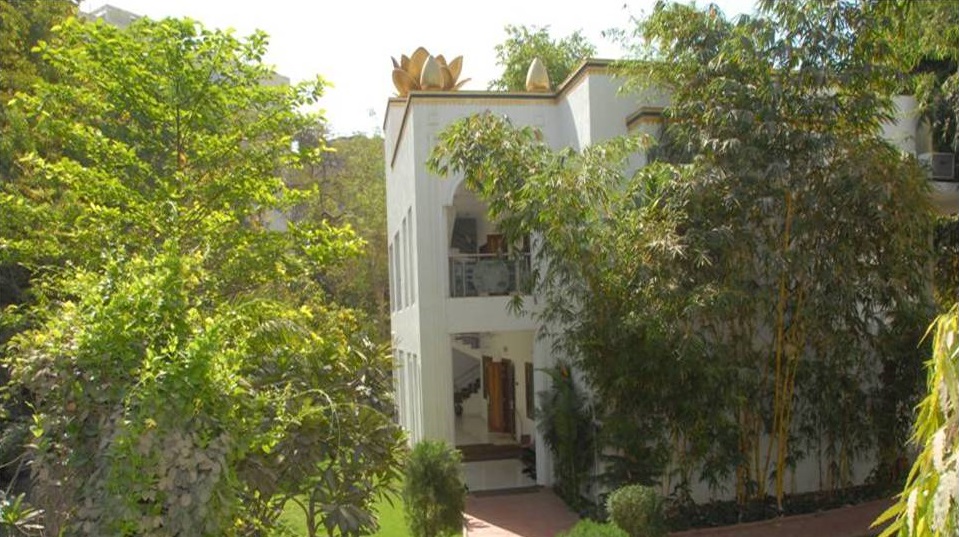 Yogoda Satsanga Society of India (YSS) was founded by Sri Sri Paramahansa Yogananda in 1917. The mission of YSS is to make available to all the ancient scientific teachings, and meditation techniques of Kriya Yoga for achieving all-round success, well-being, and a direct personal experience of God. YSS has more than 200 centers across India to help all Truth-seekers to experience the power of group meditations and to share in spiritual fellowship. A meditation group was first established in Ahmedabad on the auspicious day of Dusshera on October 12, 1967 at the residence of Sri Ram Kolte in Navrangpura. Devotees met here every Monday evening and this continued till 1972. For the next twenty years, meditations were regularly held on Saturday evening at the residence of Sri Chandrakant Diwaker in Maninagar, and this period was marked by many monastic programmes conducted by Swamis Bhavanandaji, Shantanandaji, Sharananandaji, and Anandamoyji.
From 1992, meditations were held at the residence of Kum. Nita Desai in Maninagar, every Thursday and Saturday evening. YSS Sannyasis visited Ahmedabad periodically giving satsangas and classes, including Kriya Yoga diksha ceremonies. However, in 1998, with the growing number of devotees, the meditation centre moved to a rented property – Gujarat Sahitya Parishad, in the central area of Ahmedabad on the banks of the Sabarmati river.
In the year 2005, the search for an independent property began. By the grace of God and Guruji, in the year 2006, a property was identified very close to the Gujarat Sahitya Parishad. As it was centrally located, and easily accessible, the property was unanimously agreed upon by all the local devotees, and the purchase was completed after a series of "miraculous" events. On the auspicious day of Guru Purnima in 2007, a special prayer ceremony was performed, andrenovation of the property began in 2008. The Dhyana Mandir was completed and inaugurated on May 10, 2009 (Avirbhav divas of Swami Sri Yukteswar Giri) by Swamis Shantananda Giri and Ishwarananda Giri. The inauguration was followed by a Kriya Yoga diksha ceremony the next day.
The property consists of a 6,000 sq. ft. plot of land, and a building with two floors, and meditations halls on both the floors. A reception cum book sale room in the ground floor displays YSS publications and devotional articles. An extra room upstairs is used for children's satsanga and committee meetings. A water cooler was installed, and a water line leading to the outside the building provides passers-by with drinking water facility.
The Dhyana Mandir has been an oasis of peace and tranquility for the devotees. On the way out of the Dhyana Mandir, one finds a reminder of the way one is to live in the world – "to be calmly active and actively calm"; and one cannot leave the place without absorbing some of the peace which radiates from every corner.